Bel Air Foam & Roofing, Inc.
Maryland's Trusted Commercial Roofer
Choosing a commercial roofer is a an important decision. At Bel Air Foam & Roofing, you can rest assured in our commitment to competitively priced estimates, high-quality roofing materials and superior customer service.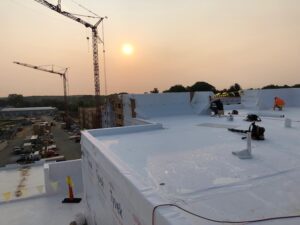 Why Choose Bel Air Foam & Roofing as Your Commercial Roofer?
Whether you are in need of a commercial roof replacement or new commercial roof installation, we can get the job done right. Our customers trust our experience and reputation; we have happily served Maryland (and surrounding states) for over 50 years!
We are committed to serving our customers and providing competitive roofing services. Give us a call or send us a message to request an estimate today!

We Provide High Quality Commercial Roofing Systems
We specialize in Duro-Last Roof Systems, known for it's durable, waterproof, flame-resistant materials. Duro-Last Roofing is the ideal commercial flat roofing system. With 15 and 20 year warranty options, you can rest assured that your new roof will last you for years and years to come.
Our commercial roofing services include:
Call Bel Air Foam & Roofing for a fast, free estimate on your commercial roof project today. We look forward to serving you.